Many Windows games require DirectX, a bundle of multimedia technologies. Your game may not function properly if your PC doesn't have the correct version of DirectX installed (the product packaging should specify which one you need).
Old popular games like GTA San Andreas, GTA Vice City, and Counter-Strike 1.6 require an old version of DirectX 9 and may not work with the latest DirectX version.
Follow the procedure mentioned below to check the DirectX version on your PC:
To find out which version of DirectX is on your PC using the DirectX Diagnostic Tool, select the Start button and type dxdiag in the search box, then press Enter.
In the DirectX Diagnostic Tool, select the System tab, then check the DirectX version number under System Information.
The first time you run the DirectX Diagnostic Tool, you might be asked whether you want to check if your drivers are digitally signed. We recommend that you select Yes to help ensure that your drivers have been signed by a publisher that has verified their authenticity.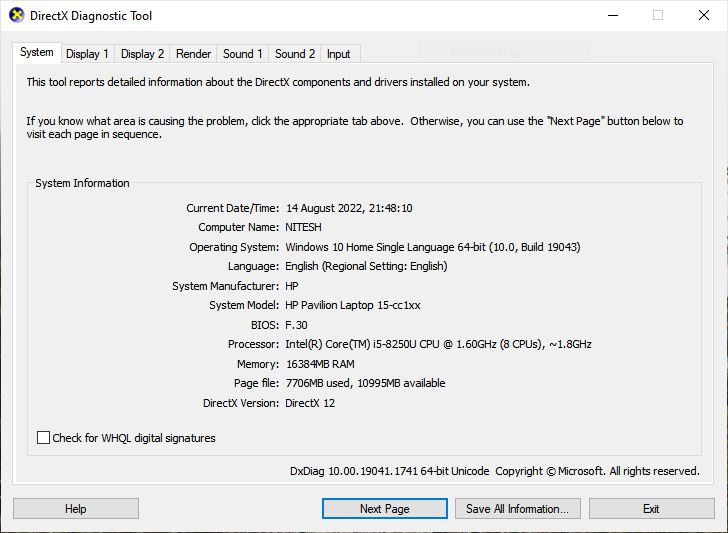 How to update DirectX?
DirectX End-User Runtime Web Installer
Use Windows Update to download the most recent DirectX version compatible with your version of Windows. The most recent DirectX version is already installed if you use Windows 10.
The most recent DirectX versions cannot be used with every version of Windows. For older versions of Windows like Windows 7 or Windows XP try installing DirectX 9.
Download DirectX End-User Runtime Web Installer
DirectX Redistributable
Microsoft DirectX is a group of technologies designed to make Windows-based computers an ideal platform for running and displaying applications rich in multimedia elements such as full-color graphics, video, 3D animation, and rich audio.